Partners
Deadline for submission of CSR projects is 30 September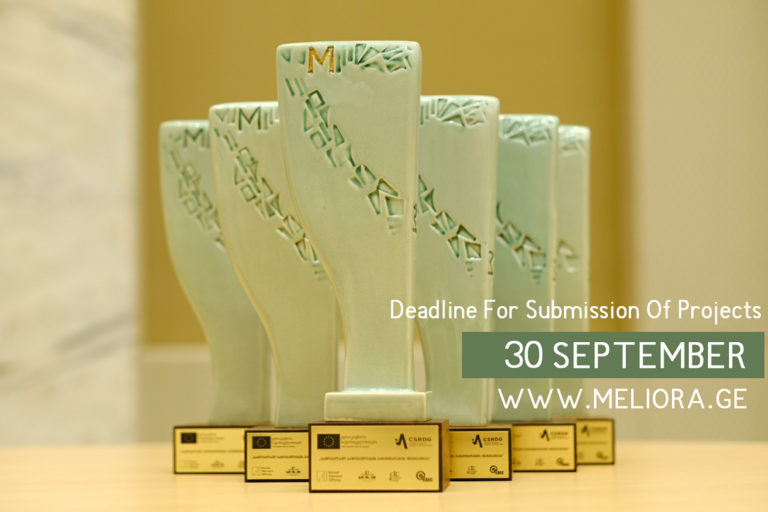 Corporate Social Responsability
The Center for Strategic Research and Development of Georgia (CSRDG), with the support of the European Union and Konrad Adenauer Stiftung (KAS) conducts for the second time the annual Corporate Social Responsibility Excellence Contest – Georgia's Responsible Business Awards "Meliora".
Meliora 2019 will celebrate companies operating in Georgia for most inspiring and outstanding projects and initiatives in the area of corporate social responsibility, that change Georgia for the better.
Business companies can subbmiet their CSR projects implemented in 2018-2019 for contest's 6 mainc categories:
Supporting Communities;
Cross-Sector Partnership;
Green Initiative;
Responsible Employer;
Responsibility in the Marketplace;
CSR Communication and Transparency;
3 special categories will also be awarded:
CSR Manager of the Year;
Creative CSR;
Waste Management Initiative;
Grand Prix of the Responsible Company of the Year will be awarded separately to a pioneering large company and SME that have embedded responsibility across their business strategies and operations and can demonstrate examples of policies or projects, which positively impact upon the society and environment.
12 International and over 20 Georgian jury members will assess the CSR projects based on the consistency and effectiveness of their results.
For further information please visit - WWW.MELIORA.GE
If you have any questions please write to Salome Topuridze, PR expert of the contest – salometopuridze@csrdg.ge
About Implemented Organization: Center for Strategic Research and Development of Georgia which was established in 1995 has successful multi-year experience in the field of civil sector development in Tbilisi as well as in the regions of Georgia. CSRDG has been focused on results that can improve the lives of individuals and societies in general. It was the first Georgian organisation that prepared and published: the sustainability report in accordance with GRI (Global Reporting Initiative) sustainability reporting guidelines; the first Georgian-language textbook on CSR for higher educational institutions; and comprehensive analytical research on "Corporate Social Responsibility and Public Sector's Role" (analysis and recommendations for the Government of Georgia).
For Further Information
Salome Topuridze, PR Expert, CSRDG
T: (+995) 599 326 555; salometopuridze(@)csrdg.ge