Members • Sectors & markets
IBA Europe-Caucasus-Asia Forum 2019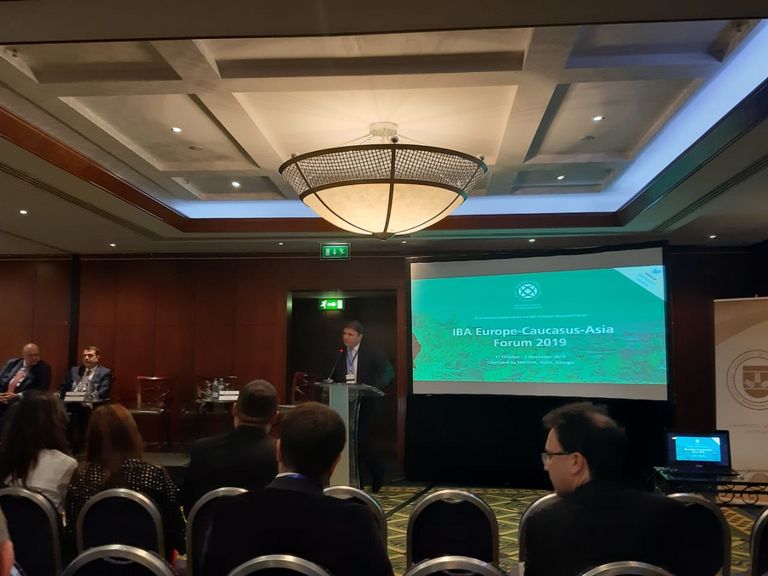 Law and Legal Profession
IBA Europe-Caucasus-Asia Forum 2019
31 October - 2 November 2019
Our members Alexander Bolkvadze, BLC Law Office and Nick Gvinadze, Gvinadze & Partners were among those who hosted the forum.
On 31st of October – 2nd of November 2019, Tbilisi hosted IBA (International Bar Association) Europe-Caucasus-Asia Forum 2019.
The Forum was attended by the President of IBA - Mr. Horacio Bernandes Neto and other distinguished guests and speakers (over 100 foreign delegates). Managing partners, heads of practice, in-house lawyers and other senior practitioners were present.
The main topic of the forum was the rule of law and legal profession in the ECA region, namely:
Legal challenges and risks of investing in the region have been discussed. The speakers have emphasized on risks such as bankruptcy, regulatory, political challenges, sanctions, anti-corruption and compliance of the partner and the importance of the above-mentioned risks for lawyers. The best practices that companies use to handle the uncertainty existing in the region have been shared.

The advantages and disadvantages of working on the global market and providing service to international clients have been listed. The speakers have highlighted the impact of demand from international client for pro bono activities, CSR, secondments and other services as well as pressure on legal fees.

Environment of legal profession with its challenges and problems that professionals face has been reviewed. The speakers emphasized on unfair competition, lack of equality, diversity and inclusiveness representing an obstacle for being more productive. Burnout of lawyers has been mentioned.

The M&A market has been analysed with the main trends and developments in the region as well as investment priorities.

The situation regarding new taxes and tax regulations in the region has been reviewed. The speakers discussed the issues such as recent anti-avoidance measures, tax transparency and reliability, taxation of digital economy.

Discussion about the dispute resolution in the region closed the forum.