Events • Sectors & markets
Roads Department of Georgia - Presentation of highways projects
Highway projects in Georgia to improve the circulation within the country.
Roads Department of Georgia - Presentation of highways projects
12 June 2018
The Roads department of the Ministry of Regional Development and Infrastructure of Georgia gathered international institutions in order to present the futur constructions projects. The two main projects for the moment are:
The presentation was made by First Deputy Minister and Chairman of Roads Department Irakli Karseladze and also by the Director of United Water Supply Company of Georgia Eka Galdava for the construction projects of water supply and sewage systems in Kutaisi and Marneuli.
The goal of the presentation was to create awarness on the projects in order for experienced companies to be able to hear about the tenders, rising the chance of getting the best results.
The CCIFG was present at the side of the French Ambassy represented by H.E. the French Ambassador in Georgia, Mr. Pascal Meunier.
West-Est Highway: Chumateleti- Argveta
The Khasguri - Argveta section
-Total length: 52 km
-Estimated budget: 1.2 billion USD
-Works divided into 5 part:
---
| Part | Distance | Construction Period | Tunnels | Bridges | Lanes |
| --- | --- | --- | --- | --- | --- |
| Zemo Osiauri - Chumateleti | 14.0 km | 2018-2021 | 5 | 21 | 4 |
| Chumateleti-Khevi | 11.7 km | 2018-2021 | 3 | 20 | 4 |
| Khevi-Ubisa | 12.2 km | 2018-2021 | 20 | 35 | 4 |
| Ubisa-Shorapani | 13.0 km | 2018-2021 | 18 | 27 | 4 |
| Shorapani-Argveta | 14.7 km | 2018-2021 | 12 | 14 | 4 |
---
Benefits:
Traveling Time reduction: 50%
Driving Speed: increased by 80-100%
---
North-South Highway: Kvesheti-Kobi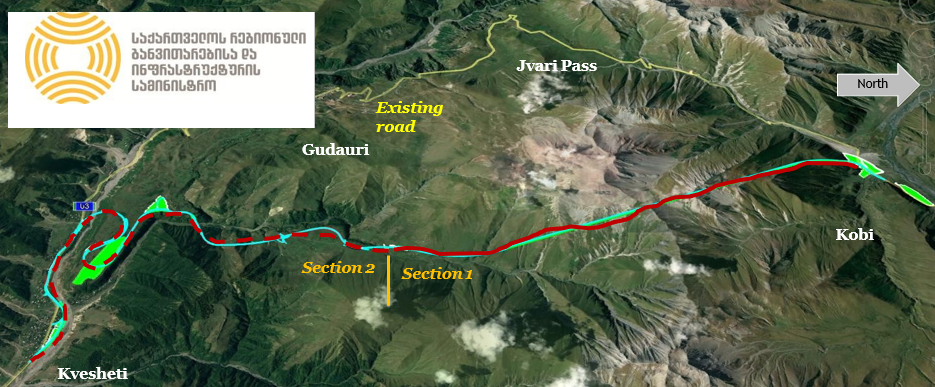 The Kvesheti-Kobi section
-Total length: 22.7 km
-2 sections:
---
Part
Distance
Construction Period
Tunnels
Bridges
Lanes
Section 1
10 km
2018-2021

1

Length: 9 km

-
2
Section 2
12.7 km
2018-2021

4

Longest: 1.5 km

6

Longest: 0.4 km

2
---