Analyses & Studies • Partners
French-Georgian Relations
Economic relations
French-Georgian Relations
EU-Georgia relations are governed by the Association Agreement, signed in 2014 that entered into force on 1 July 2016, which includes a Deep and Comprehensive Free Trade Area (DCFTA). Georgia is an important partner in the framework of the EU's European Neighborhood Policy.
The liberalization of the short-stay visa regime took effect on 28 March 2017. Acceleration of emigration.
EU assistance in Georgia is equivalent to 120 million euros a year. It focuses on the reform of public administration and justice, rural development, education, and the promotion of civil society.
The EU is Georgia's largest trading partner (29% of trade in 2018). In particular, the DCFTA helped stimulate imports from Europe (+ 19%).
Macroeconomic perspectives
South Caucasus Second Economy: GDP of USD 17 billion, GDP / Cap USD 4400
Growth is solid in 2018 at 4.8% with a forecast in 2019 prev. at 4.6%.
Main aggregates

2018
2019
External account

Existing balance (%GDP)

-9
-9.3

Total exports (Billion USD)

4,4
4,7

Total imports (Billion USD)

8.7
9.4

External debt (Billion USD)

18
19.5

Foreign exchange reserve (by month of importation

3.3
3.3
Banking sector

Own funds (% of total assets)

22.5%
-

Credits/Deposits

107%
-

Doubtful loan ratio

2.7%
-
Public finances

Public debt (% GDP) (external debt)

43.3 (108,9)
43.5 (113.3)

Government budget balance (% GDP)

-2.8%
-2.6%

Compulsory contribution rates

27.9
28
Ratings:
Fitch: BB stable
Moody's: Ba2 stable
S&P: BB- stable
BPI: B
Transparency: 58/100
OECD: 6
The French economic presence is strengthening
Georgia is France's largest market in the Caucasus, with whom it has a structural and growing trade surplus.
French exports: + 6.4% in 2018 (+ 44% in 2017) to 192 Billion EUR.
Main exports:
pharmaceuticals 26% of exports (+ 0.4%);
equipment 25% (+ 380%);
chemicals 14.12% (+ 18.9%);
LPN products 12% of exports (+ 2.1%);
Imports: + 26.6% to 45 Billion EUR.
Purchases of distilled alcoholic beverages 40% (+ 43%)
Market share: 2.88% (1.69% in 2017).
French companies have invested in traditional sectors:
transport,
agribusiness,
commercial real estate,
mechanical industry,
recently
Bilateral trade: surplus and rising exports
Evolutions of the French's export and import with Georgia (Billion EUR)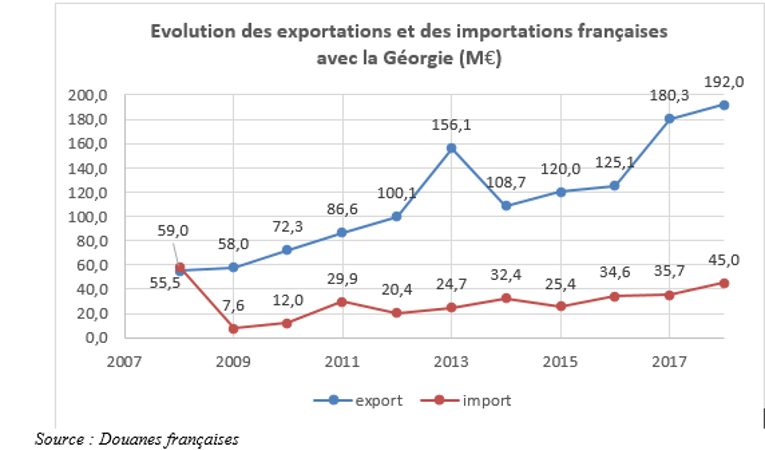 Exports dominated by equipment and pharmacy
Bilateral trade: progress in 2018
Evolution of the market shares
Energy, equipment and agriculture sectors of opportunity
Gas, hydroelectricity; eolian
Energetic efficiency
Land Registration and Farmland Ownership Act; seed sector development;
Geographical Indications
Strong support from donors
Strong presence of multilateral and regional donors (WB, ADB, EU, EIB, EBRD) and bilateral donors (AFD, KfW): infrastructure projects and technical assistance
AFD: opening of the regional office in Tbilisi in dec. 2016
Activities of Proparco, a subsidiary of AFD, for the financing of the private sector, in the banking, health and hydropower sectors.
Relations with Russia and the EEU
2018 exchanges with Russia:second partner (1.4 billion USD, + 15%) behind Azerbaijan since 2018.
Exports to Russia: 447 Billion USD, + 10%
Imports from Russia: 935 Billion USD + 17%.
Industrial base adapted to Russian standards. Russia's share of Georgian exports dropped from 14.5% to 13%.
EEU: trade growth: + 24%.
Georgian imports: 15.9% (15.2% in 2017)
Exports: 25.7% (25.4% in 2017)
Decrease in market shares.
Tourism: 1.4 million Russian tourists in 2018 (23%); 17%; higher expenses; diversified (mountain areas, casino, sea)
FDI: old investments in the energy sector, banking, mining and more recent telecommunications, agribusiness (Borjomi: Alfa- Nestlé).

Energy: 75% of the electricity distribution belongs to INTER; hydroelectric power stations in Gardabani (80% electricity in winter); Khami-1 and 2 etc .; gasoline distribution networks (Lukoil, Gulf); VTB (5% of the market); water supply of the capital; gold mine; telecommunications (Beeline - 8% of the market).